Duration: 1 Day (10hrs)
This unit of competency is suitable for members of a standby rescue team for confined space operations. The learning outcomes include, preparing for a confined space rescue operation, assess and manage confined spaces, determine location and condition of casualties, gain entry and removal of casualties, conclude rescue operations
Pre-requisite: As this is part of our confined space training program, students are to show competencies in the below units of competencies and all qualifications have been attained within the last 24 months.
RIIWHS202E Enter and work in confined spaces
MSMPER200 Work in accordance with an issued permit
MSMPER202 Observe permit work
MSMWHS217 Gas test atmospheres
We strongly recommend conducting our 3 day training packages, click below for the 3 day course including confined space rescue training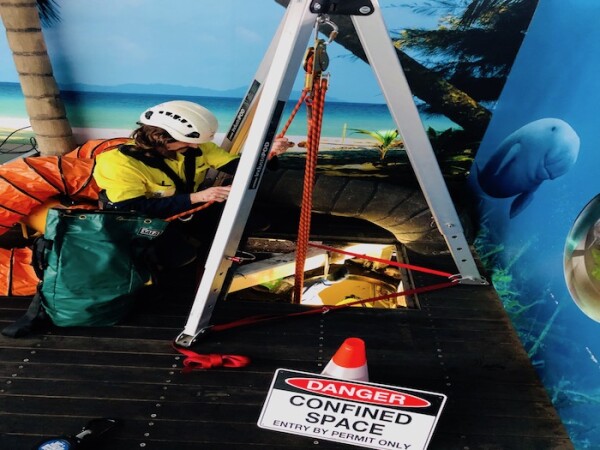 Successful completion of this training will be awarded the statement of attainment for:
MSMWHS216 – Operate breathing apparatus
PUASAR025 – Undertake Confined Space Rescue
Students will be emailed a PDF copy of the statement of attainment on completion of the training course.
Course consists of both theory and practical, including theory and practical assessments.
Platinum Safety Training Centre: Prestons NSW
CORPORATE BOOKINGS ONLY
Group of 4 students: Fixed price – $1500.00 (min. booking fee)
Additional students charged: @ $350.00 pp
Capped pricing: $2000.00 – Group up to 6 students
Prices are GST Free – Note: All corporate bookings will be individually quoted.

Found a better quote? Please give us a call and let our friendly staff ensure you are receiving the best training for the best price!
Get in contact with us! Call: 1300 027 057 or Email: info@platinumsafety.com.au
Please note: All students must be able to communicate in English and able to complete all documents, including theory assessments. If assistance is required, please contact us prior to commencement of training day to discuss options. Failure to do this, may result in a student not being able to complete the training and a refund will not be issued.
Courses are held at our facilities in Prestons unless stated otherwise in the individual course info.
Platinum Safety Training Centre,
2 / 6 Weld st Prestons, NSW 2170
Open Monday - Friday 7:30 a.m – 5:30 pm
Do I require training to carry out works in a confined space?
The simple answer is YES! Here at Platinum Safety and Training, we make it easy when it comes to deciding what training you need to carry out work in a confined space. We have a range of confined space training courses to suit everyone.
Confined Spaces Training courses offered