Duration: 2 days – 8 hours/day
This 2 day training course is for anyone who works in and around confined spaces and also requires to supervise and control the confined space. Remember, law requires every confined space to have an issued confined space entry permit and MUST be issued by a competent person!
Confined space supervisor 2 day training course includes these 7 key units of competency:
RIIWHS202E Enter and work in confined spaces which is the minimum requirement for all workers entering and working in confined spaces. The learning outcomes include, confined space awareness, legislative requirements, hazard and risk controls, tools and equipment, entry, exit and clean up procedures.
MSMPER200 Work in accordance with an issued permit provides understanding and training on how permit systems work and to maintain a safe and compliant work safe
MSMPER202 Observe permit work allows the workers to act as the standby/spotter to ensure all workers inside the confined space are safe and conditions of the work permits are followed.
MSMWHS217 Gas test atmospheres will enable the operator to test atmospheres using a range of testing equipment in order to determine a safe atmosphere for workers. The competency requires the operator to safely take and interpret gas readings and take the appropriate actions.
MSMWHS201 Conduct hazard analysis & RIIRIS201E Conduct local risk control which will cover hazard and risk identification within the workplace, including creation and implementation of hazard analysis tools such as
* Job safety analysis (JSA)
* Safe work method statement (SWMS)
MSMPER300 Issue work permits, covers the understanding and limitations of the permit system. As the competent permit issuer, you will be making decisions regarding the need for permits and ensure the conditions are implemented.
There is no prerequisite for this course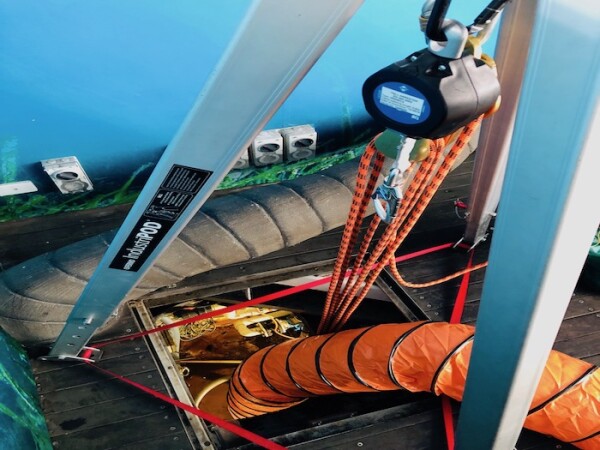 Successful completion of this training will be awarded the statement of attainment for:
RIIWHS202E

Enter and work in confined spaces

MSMPER202

Work in accordance with an issued permit

MSMPER202

Observe permit work

RIIRIS201E

Conduct local risk control

MSMWHS201

Conduct hazard analysis

MSMPER300

Issue work permits

MSMWHS217

Gas test atmospheres
Students will be emailed a PDF copy of the statement of attainment on completion of the training course.
Course consists of both theory and practical, including theory and practical assessments.
Theory Consists of classroom work involving a powerpoint presentation, group discussions, group activities such as conducting hazard identification and risk assessments, Issuing confined space entry and isolation/

hotworks

permits.

Practical consists of hazards analysis and risk assessments, creating a rescue plan, setting up the confined space, gas testing including bump test and calibrations of gas detector units. Directing and following procedures with the issued work permit. This is conducting during 2 x confined space entry activities (1x horizontal entry and 1 x vertical entry – utilising tripods, winches, fall arrest systems, ladders, etc in our specialised confined space training unit – Providing our students with realistic and challenging work spaces.
Recommended course: This course will cover all requirements to enable workers to enter confined spaces, to carry out stand by duties, gas test atmospheres and to issue all workplace permits including Confined space entry permits.
Platinum Safety Training Centre: Prestons NSW
Come and complete your safety training at our specialised training centre and save $$$.
Price guide:
Group up to 4 students: $1500.00 – (min. booking fee)
Additional students charged @ $250.00 pp
Capped pricing: $2500.00 for a group of up to 12 students
Onsite training at your workplace prices: (Sydney/Wollongong area)
Contact us to see if your location can be accommodated.
Price guide:
Group up to 4 students: $1650.00 – (min. booking fee)
Additional students charged @ $325.00 pp
Capped pricing: $3000.00 for a group of up to 12 students
Confined Spaces Training courses offered